Please allow me to take this opportunity to introduce my decorating business and myself. I am a local businesswoman with a beautiful Decorating Showroom located in Exton, PA. The moment you walk through the doorway at N J Rose Decorating, you know this is someplace special, and you will be treated very special as well.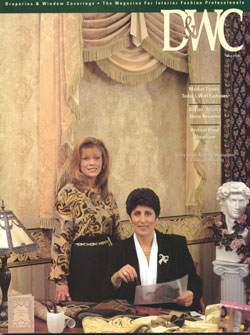 The first thing that's bound to make an impression is the showroom itself. N J Rose Decorating is a full-service designer showroom, and I showcase my products and services in a distinctive and high-quality setting, as they would be seen in your beautiful home.
Featured on this page is a national magazine cover on which N J Rose Decorating is honored by its selection as the cover story in Draperies & Window Covering Magazine. As quoted from the 3-page magazine article, this recognition represents a 50-year lifetime achievement. "To be recognized in this manner is the equivalent to receiving an Oscar Award, or our industry's highest honor."
We offer many services in the Chester County, Montgomery County, Delaware County, Berks County, and Bucks County areas specializing in Blinds, Window Treatments, Bedding Ensembles, Reupholstering, Plantation Shutters and Window Tint. We also sell Area Rugs, Mirrors, Framed Art, Decorative Hardware, Decorative Painting and so much more.
We have been in business in Chester County for 50 years. We are family owned and operated and we treat your home like ours. Our customers are special and we always give you more than you think you are getting.
If you choose, you can make an appointment and come to the showroom to view the products on display or we also offer SHOP AT HOME SERVICE where we will come to you. WE MEASURE, WE INSTALL, WE DO IT ALL!!! CALL OR E-MAIL TODAY FOR AN APPOINTMENT but please visit me at my on-line showroom at www.WindowTreatmentsPA.com.
Work with N J ROSE for professional, courteous service and a selection that let's you be creative. Whatever your style we have the product to complement it. We help to make your decisions easier.
Talk to our personable, helpful staff and let N J ROSE handle all of the details for your window needs. Our quality products are AFFORDABLE and we are always promoting new or existing window products that offer you the BEST DOLLAR VALUE. With custom window treatments there is no substitute for 50 yrs experience.
Our business revolves around service and we are proud to have provided our Customers with quality manufacturing, excellent service and expert installation for the last 50 years and will continue to do so. We understand the principle of service and work by it six days a week. We are glad to help you in any way we can and look forward to seeing you soon!
Thank you for allowing me to introduce myself and my business and when I can be of assistance please call or e-mail. We would love to help you with your decorating needs. At N J ROSE we treat your home like our home and we want you to love everything for many years to come. Please visit the testimonial page and hear what our customers have to say.
Best Regards,
Nancy Rose, Owner