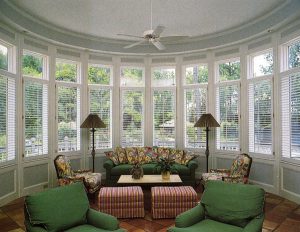 From start to finish, N J Rose Decorating makes everything exactly right.
The moment a customer walks through the doorway at N J Rose Decorating, they know this is someplace special. N J Rose is a full service designer showroom and it showcases its products and services in a distinctive and high quality setting. You can walk around the showroom and experience several blind, drapery, and window treatment displays as well as examples of reupholstered furniture and the only window tint display in the state of Pennsylvania.
But the clincher is the attention to detail, the depth of knowledge and the care Nancy brings to bear on the beautiful and unique custom window treatment designs offered at N J Rose. The evidence is everywhere: the distinctive display vignettes, the quality products and samples and the focus Nancy places on getting everything exactly right for her customers.
"A lot of designers and decorators today have the right background. They say,"Oh I know color, or Oh, I can put a room together. But window treatments, custom window dressings – are in a realm of their own. To truly understand custom window treatments and blinds you have to be not only a designer or decorator, but you also have to have a manufacturing background and an installation background in addition to a design background," Nancy says.
"There is an art to it. No two windows are the same. There's a lot that goes into the manufacture of window treatments," she adds. "You have to know how to make them before you can truly sell them and be successful."
Customers looking for individual attention and personal treatment come to N J Rose Decorating, where quality and service is our business.